Sauces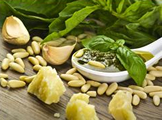 One rule for all sauces: No kind of preservatives. Enjoy the best traditional Italian recipes prepared by hand and
packaged with care. These sauces are superb with meat, fish, pasta, oven fresh bruschetta, all kind of cheese or rice.
Excellent either for the aperitivo on top of some crunchy bread or lunch and dinner time. Feel the goodness of the natural ingredients from Italy!
Making pasta, stews, roasts, snacks, or anything that suggests creativity is no longer limited to a few chefs. Sometimes it takes little to make a great impression!
Our selection of Italian sauces are 100% natural: no additives, no preservatives alter its rich, delicate and balanced taste. These seasonal gourmet sauces follow old recipes handed down from generation to generation. People will appreciate the traditional sauces, such as boar or hare, or experience the real pasta "Amatriciana " in pure Italian style, while vegetarians will satisfy their curiosity in tasting the artichoke or boscaiola (olives and mushrooms). And for the most sophisticate and expert gourmets we recommend the selection of black and white truffles. The elegant gift box can become a precious present for those who have always dreamed of Italian cuisine.